BiH wins Burberry British Diversity Award
Brain in Hand wins Diversity in Disability Tech of the Year at the Burberry British Diversity Awards 
News comes as first of its kind clinical study reveals that using Brain in Hand's technology can significantly reduce anxiety and self-injurious behaviour 
Brain in Hand, the UK-based digital healthcare company focused on supported self-management, has won Diversity in Tech (Disability) of the Year at this year's Burberry Diversity Awards. The celebration welcomed over 1,000 celebrities and business leaders championing diversity and inclusion.
Brain in Hand received the award for its work supporting the neurodiverse community. The company takes a transformational approach to creating equal access to support with its digital self-management system, which helps autistic people or people facing mental health challenges to live independently, reduce anxiety, and manage their wellbeing. Through harnessing the power of technology, Brain in Hand offers a unique combination of practical solution-focused coaching, simple digital tools, and 24/7 on-demand human support.
The judges' feedback praised Brain in Hand for basing the development and improvement of its services on research and evidence. Brain in Hand's ability to link the use of technology back to the personal, allowing users to modify their strategies as they develop and gain confidence with their use of the technology, resonated most with the judges. They agreed that Brain in Hand is an outstanding example of how technology and a people-oriented approach can have a life changing impact.
"There are one million autistic people in the UK, only 1 in 5 of whom are in work," commented Dr Louise Morpeth, CEO of Brain in Hand. "That means 4 in 5 are not. That is a terrible waste of human potential. We, as a society, can and should do so much better. At Brain in Hand, we are here to make the world a fairer and more accessible place. We work to break down the barriers that prevent so many people from participating in society and living life to the full."
Dr Morpeth added: "We recognise the immense importance of giving a voice and support to marginalised communities - of amplifying the voices of neurodivergent people, not speaking on their behalf. We endeavour to continue our efforts to promote diversity and inclusion and ensure that it is integrated into all aspects of our practices."
This award is hot on the heels of a recent independent study conducted by CIDER (Cornwall Intellectual Disability Equitable Research of Cornwall Partnership NHS Foundation Trust/University of Plymouth).  The study found that Brain in Hand significantly reduced anxiety, self-injurious behaviour, and memory and orientation problems, demonstrating the positive psychological outcomes that can be achieved through providing digital support to autistic adults or those on the waiting list for an assessment. 
This is amid news that the number of people waiting for an NHS autism assessment has increased by 40% in the last year, with 121,000 people waiting longer than 13 weeks.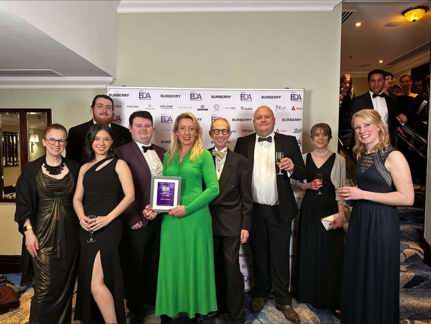 We were extremely proud to have been awarded the Diversity in Tech (Disability) Award at the 2023 Burberry British Diversity Awards. From a shortlist of twelve, and with over 25,000 total nominations, we are incredibly grateful for this recognition of our work championing diversity and inclusion. Click to read our press release on THIIS Magazine.
Link to article