DSA Needs

Assessor Toolkit
All the resources and tools you need to match student needs and make referrals
More than an academic organiser
Brain in Hand is a holistic needs-based support solution. Designed specifically for students with additional needs, it helps them organise their time, remember things, deal with difficult situations, and develop self-awareness to build self-efficacy and improve wellbeing.
It is for anyone whose day can be disrupted by anxiety, unexpected events, or the need to make decisions under pressure.
The best of digital and human support
Keep track of everything you need with personalised routines, prompts and reminders
Access solutions for unexpected and overwhelming situations
Access a library of practical ready-made solutions for everyday challenges
Monitor your mood, reflect on emotions and communicate how you feel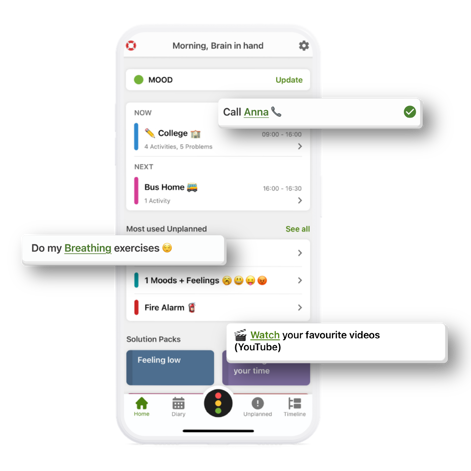 When to recommend Brain in Hand
Brain in Hand is for any student whose day can be disrupted by anxiety, unexpected events, or the need to make decisions under pressure. Students don't have to have a specific condition or diagnosis. Brain in Hand is often used by autistic people, other neurodivergent people, or people who experience anxiety. You can recommend Brain in Hand for any student with executive functioning impairments, memory deficit, and/or mental health needs.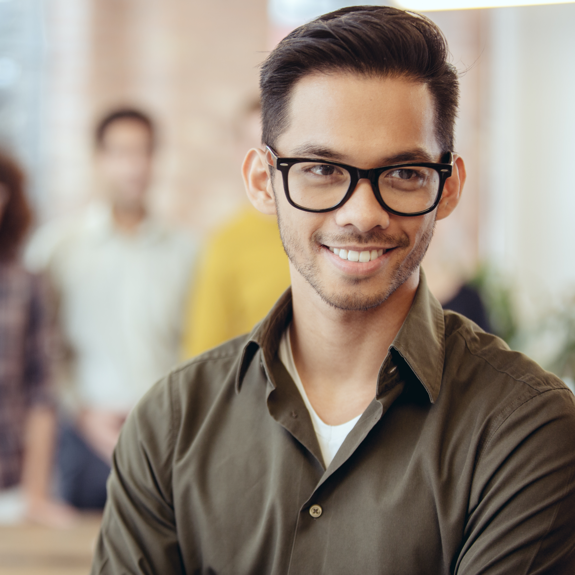 What makes Brain in Hand different?
Change is hard if you have do it on your own. Students have a dedicated coach who supports and encourages them to develop personalised solutions for the things they find difficult. Together with simple digital tools to manage the day-to-day, they can get support when they need it at the touch of a button.
A personal coach will work with the student. All our coaches have a degree qualification or equivalent.
Personalised support helps students build motivation, resilience, and self-efficacy
On-demand 24/7 human support helps students manage overwhelm
Structured routines, prompts, reminders, and ongoing coaching helps students build positive habits
Coaching is delivered by experienced mental health or education coaches who have expertise specifically with neurodivergent users
Evidence-based, proven support
We support thousands of students funded through DSA each year. We continually evaluate Brain in Hand to ensure we can demonstrate impact around independence, wellbeing, and participation at university.
of students said that they feel more confident managing their day-to-day activities
of students felt more able to participate at university
of students felt more able to cope with day-to-day stressors
How to recommend Brain in Hand
Check DSA eligibility
and confirm that the student has access to a compatible device (iOS or Android). Click here for compatibility information.
Refer and get a quote
This can be done directly from Brain in Hand or via the SLC eQuote portal. For more information email us or call us at 01392 247909.
Let us and the student know
When you get approval please share the student's DSA2 entitlement letter. Students can get Brain in Hand by registering directly with us or directly with the equipment supplier.
Reporting
Brain in Hand will report usage rates directly to the funding body/bodies. Based on usage we will renew the student annually. SAAS-funded students will require an annual assessment with a needs assessor.
Recommendation guide
This guide will help you easily match students' needs to Brain in Hand features and how it will support them. It includes example justifications for Needs Assessment Reports.
Download now
Book a webinar
This 30-minute online session introduces BiH, the digital support system, research insights on how BiH has helped DSA students achieve more and explains the three step referral process.
Book now
Features at a glance
This one-pager lists our digital and human support features in a brief and easy to understand manner
Download now
"It has been a lifesaver for me in coping with the complex daily schedules and with giving me a support structure for handling stressful busy lectures"
"Thanks to Brain In Hand, I've been able to live independently at university"
"I like having 1 to 1 support. I find it hard to retain the information so having the specialist support and being supported as I do tasks helps me to focus more easily."
"It helped to have someone to talk to even briefly about why I was struggling. It made me feel less alone with my feelings."